DEAN (Planning & Development) Message and Profile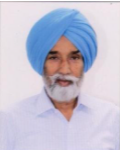 There are so many technological changes happening in the technical education around the globe. Under the move, the Government of Punjab has established Maharaja Ranjit Singh Punjab Technical University, Bathinda with a mandate to promote excellence in technical education and research.
The university is finding out ways to meet industry and student expectations and to disseminate the value based quality education. The university is committed to set high expectations for its students and to establish engaging curricula and learning environment. Students are being provided knowledge and skills required to succeed in a technologically driven global society. The world of technology is evolving continuously and we at the university trying hard to cater the industry needs and the development of students.
You are welcome to visit the website of university to remain updated about the latest information and programs available in all its campuses and affiliated colleges. Functioning in a knowledge and information based society, the MRS PTU sets the path for a "new" era of education so that the graduates will be ready to effectively confront the challenges of the 21st century.
As the university is in its establishment phase, the Department of Planning and Development is geared up to take up the challenges to establish it as a world renowned technological university. The feedback and constructive criticism from the stakeholders will play a vital role to create a modern technological and research based infrastructure in the university. I convey my best wishes to all.
Dr.Nachhattar Singh
Consultant (Planning & Development)
Maharaja Ranjit Singh Punjab Technical University, BATHINDA
Staff Details
S.No
Photograph
Name
Designation
Contact Details
1
Dr. Nachhattar Singh
Consultant Planning & Development
Mob: 95011-05050
pa-deanpnd@mrsptu.ac.in

2
Ms. Seema Rani
Clerk,Planning & Development
Mob: 97802-95090
pa-deanpnd@mrsptu.ac.in